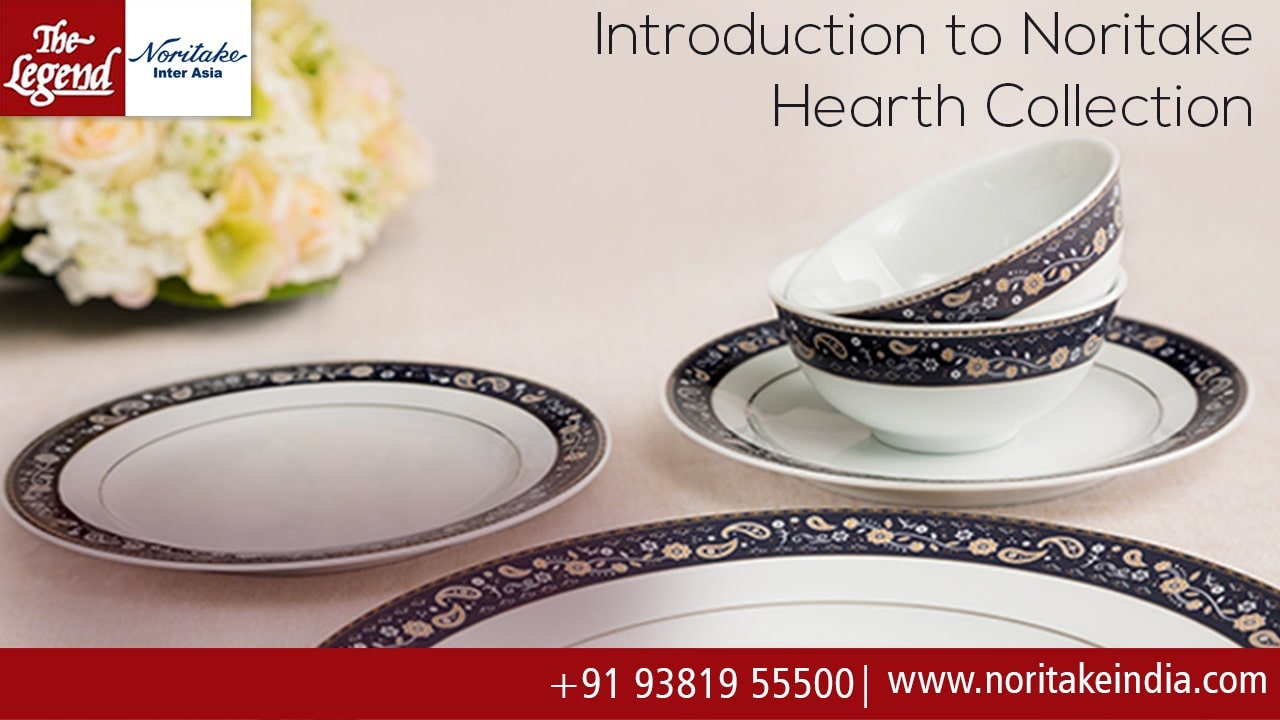 Introduction to Noritake Hearth Collection
A great collection of dinnerware can add a touch of elegance to the dinner table and will stay in style for years while being able to survive the rigors of daily usage.
Noritake's Premium Hearth Collection too is elegance personified in every single way. Every piece in this collection is a timeless classic that is truly made to last. The Hearth collection comprises pieces that are either crafted from pure white porcelain and plated with 24K Gold or 99.9% platinum.
The high glazing quality employed ensures lifelong shine, smoothness and resistance to marks left by cutlery usage.
Moreover this versatile collection, with a beautiful design and the unfailing Noritake promise, is ideal for entertaining guests, gifting on special occasions or to simply pass down generations as an heirloom.
The Hearth collection comes in 5 types of sets
A 37 piece dinnerware set that consists of 8 dinner plates, 8 half plates, 8 katoris, 8 soup bowls, 2 serving bowls , 2 small serving bowls and 1 oval platter.
A 21 piece set that comes with 6 dinner plates, 6 half plates, 6 katoris, 2 serving bowls, and 1 oval platter.
A tea set that comes with 6 cups and saucers.
A coffee mug with 6 coffee mugs.
A milk mugs set comprising 2 milk mugs.
You can also choose from 8 brilliantly unique designs in the Hearth Collection that each comes with either gold or platinum plating:
Monarch Platinum
Pristine white rimmed with an ornately crafted and widely engraved platinum ring, pure white porcelain offers the Monarch Platinum style a suave yet simplistic feel. This beautiful pattern will bring sophistication and style to your table, and will make any meal special.
Monarch Gold
Crafted of gold-banded bone china with an inviting motif redefined in each piece, the Noritake Monarch Gold design from the Hearth collection brings fresh flair to formal dining.
Ville De Lumiere
This design, as its name suggests is inspired by the 'City of Lights'. With its geometric patterns glistening with precious metal, it truly is a fashion statement as it is a daily utility.
Petite Fleur
Gorgeous colors, floral motifs, subtle decorations and a functional enchanting dinnerware set are the perfect way to have a great dinner. This particular floral pattern mesmerizes with its elaborate lines and the colors enliven the table.
Golden Chintz
Make family dinners into an occasion with these festive pieces. This pattern exudes elegance by complementing a rather understated piece with a brilliantly intricate golden band design. Use it as a pretty underlay for the food served in your dishes.
Royal Palace
This Pattern is absolutely featuring a beautiful black band with floral rim and gold trim is absolutely breathtaking. If you like to entertain a lot, the Royal Palace is an absolute must have as it sure to leave your guests highly impressed.
Royal Fountain
Featuring a flawless golden fountain etched across a wide band on all its pieces, minimalism is at its most effective with this stunning design. Dine like royalty at your every meal.
Paisley Garden
Paisley features an urn of brightly colored flowers and a graphic border with a golden edge. Add fun and zing to your table with this whimsical set!